The Chemical Guys Supreme Detailing Essentials Kit with Detailing Storage Caddy is the kit that contains the products you need to clean, shine, and protect your car, truck, or SUV, and comes with the Speedload Carrying Caddy for easy storage and transportation on the go!
---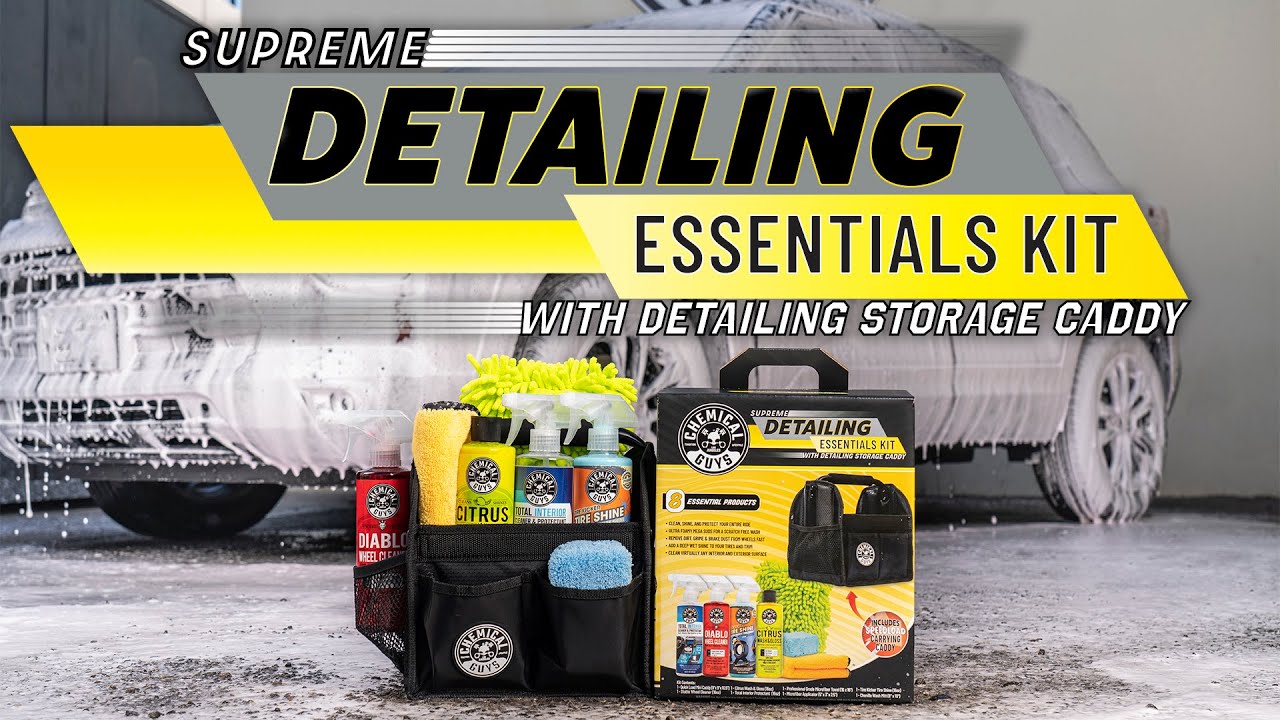 Awesome Kit Features:
Comes with Speedload Carrying Caddy to store all your Chemical Guys products
Clean virtually any interior & exterior surface with Total Interior Cleaner
Helps protect vinyl, rubber, and plastic pieces from harsh elements
Add a deep wet shine to your tires and trim with Tire Kicker
---
Restore the Shine to Your Car
Any proper detail starts with the wheels and with the Chemical Guys Supreme Detailing Essentials Kit, you can quickly and easily remove road grime, brake dust, dirt, and more to reveal the true OEM finish of your wheels with Diablo Wheel Cleaner, the versatile foaming formula that's safe for all wheel types! Next, wash your car with tons of suds with Citrus Wash & Gloss and the Chenillle Microfiber Wash Mitt! This perfect combo of suds and soft chenille microfiber noodles help ensure that you don't install swirls or scratches while removing dirt and grime.
Don't Forget to Clean and Protect Your Interior
Tackle that dirty interior with Total Interior and remove dirt, grime, fingerprints, body oils, dust, and more from virtually all interior surfaces, including dashboards, seats, carpets, fabric, glass, leather, door panels, and more! The versatile cleaner doesn't just clean, it also leaves behind a layer of protection to help protect your interior surfaces from the harsh effects of the sun. For the perfect finishing touch, spray some Tire Kicker onto your included Microfiber Applicator, then rub onto your tires and trim to add a deep black shine back to your car! The versatile formula doesn't just revive your exterior vinyl, rubber, and plastic, you can also use it on your interior!
Storage Made Easy and Fun
Once you're done with your detail, store all your Chemical Guys goodies in The SpeedLoad Carrying Caddy & Storage Organizer! This collapsible caddy allows you to take all your favorite detailing chemicals and tools on the go so you can make your car shine anywhere, anytime, and can even be used for any other job around the car, house, yard, worksite, or office!