Achieve professional results fast and easy with the industries newest, most advanced and best buffing pad system. Hex Logic is here! Hex-logic
pads are engineered and developed for todays pickiest detailing professionals.
Hex-logic - The Latest Innovation In Polishing and Buffing Pads.
Engineered, developed and tested to specific requirements of our OEM clients. These pads utilize the best foams from around the world and the latest of testing and research and development including Chemical Guys own Self Centered backing system!
The Hexagon is not new to science, its just new to detailing. Rather then try to reinvent some catchy gimmick, Chemical Guys invests in technology that through the years has simply been unbeatable and improves on it. Hex-Logic pads are designed to hold product and distribute it evenly over the surface of the pad, delivering a superior even finish that is hard to achieve with any other pad.
Nature selected the Hexagon for storage and designed it to be one of the most efficient holding cells. For example a mass ofhexagonalwax cells built byhoney bees in theirnests to storehoney andpollen. The bees build the comb with 6 sides for even distribution of product fast and effectively.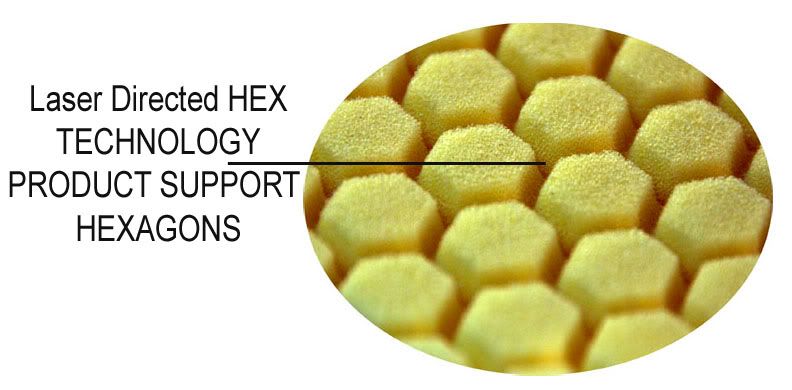 Hex-logic Pads are laser cut perfect every time to guarantee that every pads use is extremely efficient.
These
pads are engineered, designed and manufactured 100% in the California USA.
"We are proud to be first pad manufacturer to break the foam barrier," The new hex-logic technology's combination the latest of foams and cushioning with the stability of the hex-logic design allowing us to control the rate of product spread and amount of surface contact to deliver a pad unlike anything else.
DISTRIBUTORS WELCOME PLEASE INQUIRE AT
(866) 822-3670 or (310)678-2838