GET YOUR PRODUCTS AND CAMERAS READY Chemical Guys YOU YouTube Competition # 9 HAS OFFICIALLY STARTED!
Introducing the 9th YOUTUBE competition. We want you - our friends, clients, customers and business owners - to make a YOUTUBE video of yourself, or someone you know showing us your favorite use or application for any Chemical Guys products or variety of products.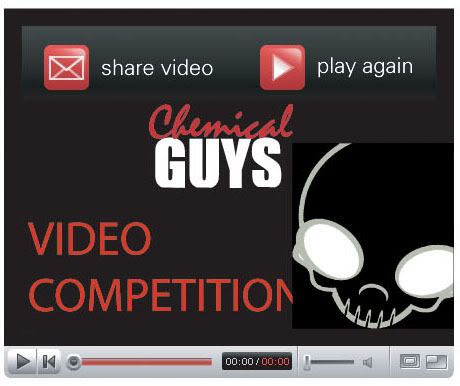 All you have to do is try and have fun with it! Simply make the video and e-mail us a link to it. E-mail us at Sales@ChemicalGuys.com. Be sure to include your name and address as well as a contact #.
Everyone who submits an educational video of how to apply or use any of the CG products correctly will receive their choice of a 5050 Paste Wax, a Pete's 53, or any 16oz bottle of Chemical Guys product FREE with your next order. Ten (10) Grand Prize winners selected from every entry received will receive a $200 Gift Certificate on ChemicalGuys.com or a jar of $274 E-Zyme Paste Wax. We will award 50 winners who's videos will be used on our site to help others learn from them and have fun. If we select your video for the site you will receive THE ULTIMATE SHINE AND PROTECTION KIT FREE
.

Deadline for entries in March 18, 2011. Submit entries to sales@chemicalguys.com attention "YouTube Competition."
ALL ENTRIES WILL RECEIVE - Your choice of any 16oz bottle or Chemical Guys Product or a can of 5050 Paste Wax or Pete's 53' Paste Wax FREE with your next order.
20 Winners will receive:
Shine & Protection Kit (6 Items) :
(Click on product for individual info)
5050 Limited Series Concourse Paste Wax

(2) Fluffer Towels - 24" x 16" Ultra Plush Super Soft Microfiber (new)
1 Grand Prize winners will receive:

A $274 Jar of E-Zyme Paste Wax
** All entries must be received before December 24th 2011. Please try your best to make the video easy to understand and view. Keep all frontal nudity to a minimum. Refrain from excessive use of profanity or foul language. Please do not harm any animals in the making of the video.


Thank You to everyone that competed in our first You Tube Competition. The videos were awesome! We hope everyone enjoyed your prizes as well as your free products for entering. We want to congratulate 1st place winner UK's Premier Detailer VXR MARC for taking home first place for his MAX POWER COVER SHOT VEHICLE premium detail. BE sure to Take a look !
HERE IS A GREAT EXAMPLES OF SOME ENTRIES:
Vauxhall
VXR8 Bathhurst-
Sure the car is beautiful and it's fast but you haven't seen anything yet. You have no idea what a Vauxhall VXR8 should look like until you've have seen one detailing by United Kingdoms Premium Detailer Mark E. We feel that this beautifully done
YouTube competition
entry speaks for itself.
We have been privileged to see Marc's work before on numerous accessions but when you ask him about it. " Marc E. is an enthusiast detailer and usually detailers as a hobby". Everyone here at Chemical Guys is sure you will be just as excited about his hobby as we are. Thank You VXRMarc for this great demonstration of your skills and for putting together such a great video.
.
Chemical Guys Exterior Detail-DetailByVinny's-
This is the process I use when detailing all clients cars. I start with a car wash, then clay, then polish using Pro-Polish, then seal using JetSeal 109, then wax with Petes 53'. I used a porter cable 7424 in this particular detail.
Submit entries to sales@chemicalguys.com attention "YouTube Competition."